Legalization for Costa Rica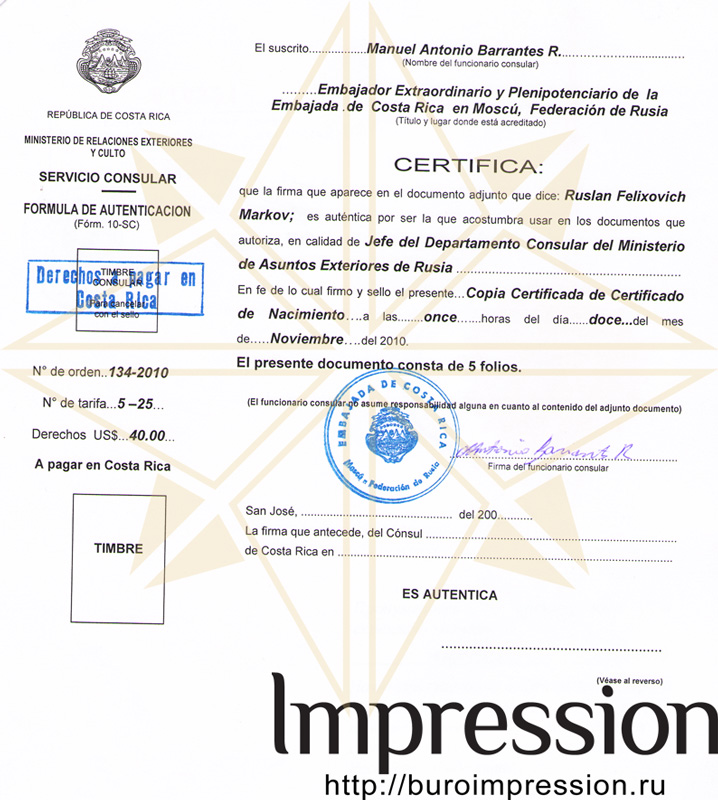 The Republic of Costa Rica is one of the smallest countries in Central America with a population of about 4.5 million people. Nevertheless, it attracts a large number of tourists from around the world for its variety of climatic conditions, and business people – for its tax benefits. In both cases, persons travelling to this country must properly prepare their documents under the laws of Costa Rica. Since this country is not a signatory to the Hague Convention of 5 October 1961, in order for your documents to have legal effect in Costa Rica, they must pass through a consular legalization procedure in the country where the documents were issued.
The peculiarity of legalization of documents issued in Russia for use in Costa Rica is that translation into the official language (Spanish) in the territory of Russia is not required, as authorized bodies where the document will be presented prefer a translation made in Costa Rica. There is also no visa fee at the Consulate in Moscow, while payment for legalization of documents is made in Costa Rica.
Our Moscow-based translation agency offers services on legalization of personal documents (birth certificate, marriage certificate, diploma and other various certificates) and commercial documents (Articles of Association, certificates, statements, reports) issued in Russia for use in Costa Rica.
For information about the duration and details of legalization of documents for use in Costa Rica, please contact us by the phone numbers listed in the Contact Us section or visit our office for more details on specific documents.
Back