Legalization for Canada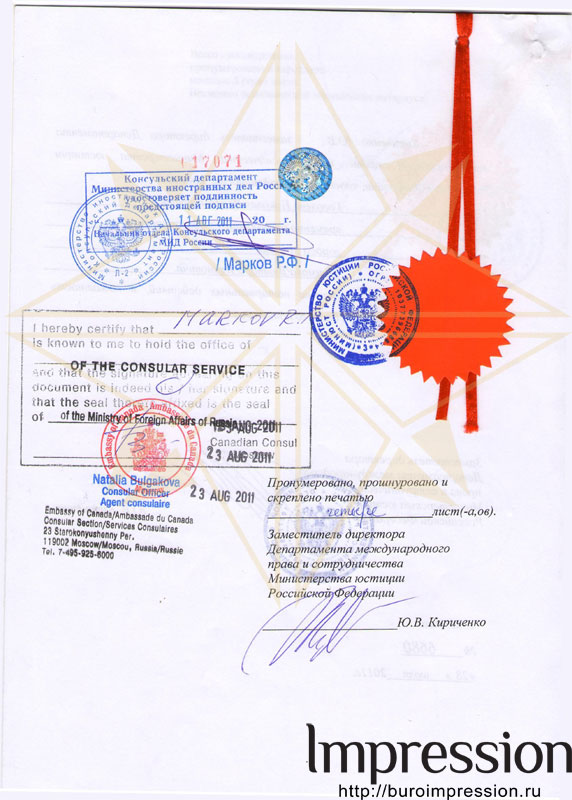 Canada is a country in North America, with English and French as its official languages. The country is the second largest in the world by area. Canada is one of the richest countries. This is a country of mixed nationalities because it has a large number of people of different nationalities. However, Canada is not a signatory to the Hague Convention of 5 October 1961. Therefore, all documents issued in Russia must pass through a full consular legalization procedure for use in this country.
Consular legalization is quite a complex process that takes about 12 to 15 days subject to proper processing of documents. You can legalize various kinds of documents issued in Russia, both personal (birth certificate, marriage certificate, Power of Attorney, statement, certificates, etc.) and commercial (Articles of Association, extract, certificate of tax registration, certificate of state registration, Power of Attorney issued by a company, etc.). However, some commercial documents (account statement, balance sheet, audit report, contract, agreement, etc.) cannot be legalized at the consular section of the Embassy of Canada in Moscow since such documents are legalized at the Chamber of Commerce and Industry of Russia, and then the signature of an authorized official of the Chamber of Commerce and Industry is authenticated by the consulate of the required country. The Consulate of Canada in Moscow does not authenticate the stamp of the Chamber of Commerce and Industry of Russia.
Our Moscow-based translation agency offers assistance in legalization of Russian documents for use in Canada, saving you time and from possible errors in paperwork. Our employees are well informed in legalization matters for this country, and they are always ready to assist you in any issue on legalization of documents for use in Canada.
For more information about the duration and cost of legalization of Russian documents for use in Canada, please contact us by phone or visit our office. Our phone numbers are listed in the Contact Us section.
Back