Legalization for Algeria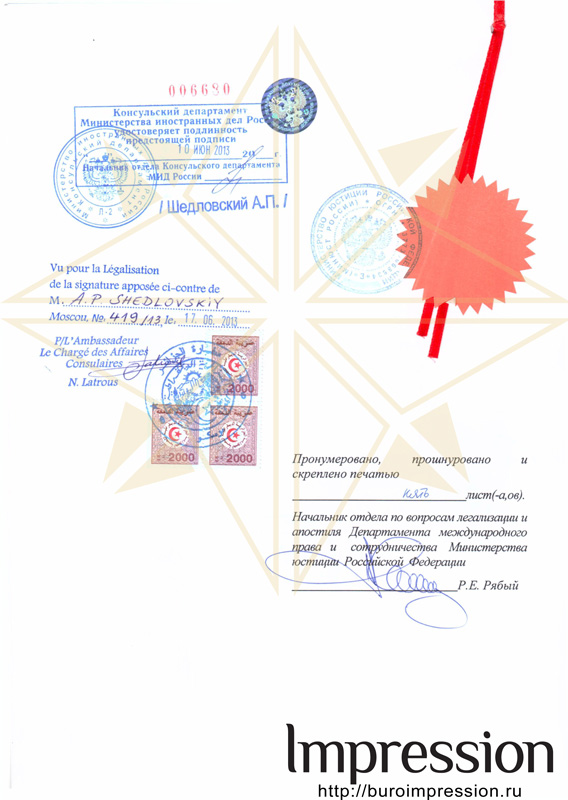 Algeria (the full official name is the Algerian People's Democratic Republic) is a country situated in North Africa. The official language is Arabic, meanwhile the French language is also used widely in the country. Algeria's economy is closely linked to oil and gas, so this country is interesting for Russian citizens and companies.
Those leaving either for work or to the permanent residence in Algeria should legalize documents for this country.
Russian companies having partners or planning to establish a rep office in Algeria are also worth to know that if there is a need to submit documents to the official institutions in this country; the latter shall be legalized in Russia (i.e. to have a stamp of the Consular Department of the Embassy of Algeria in Moscow). A variety of documents may be legalized; both private (birth and marriage certificates, certificates of secondary and higher education, a certificate of good conduct, etc.) and corporate (Articles of Association, TIN and OGRN certificates, an extract from the Unified Register of Legal Entities, a balance sheet and statement of earned surplus, etc.).
Consular legalization of documents for Algeria is a long process, comprising notarized copies of the documents, their translation into French or Arabic, certification in the Ministry of Justice, the Consular Department of the Russian Foreign Ministry and the Consular Department of the Embassy of Algeria in Moscow. Such procedure takes 15-16 business days. Also, certain types of documents can be legalized for Algeria in the Russian Chamber of Commerce.
To prevent from the incorrect paperwork; you may address to the Translation Bureau IMPRESSION and we'll do our best to legalize documents for Algeria.
Please don't hesitate to clarify timing, cost and peculiarities of legalization for Algeria by phone numbers listed in section 'Contacts' or direct in our office.
Back