Legalization for Afghanistan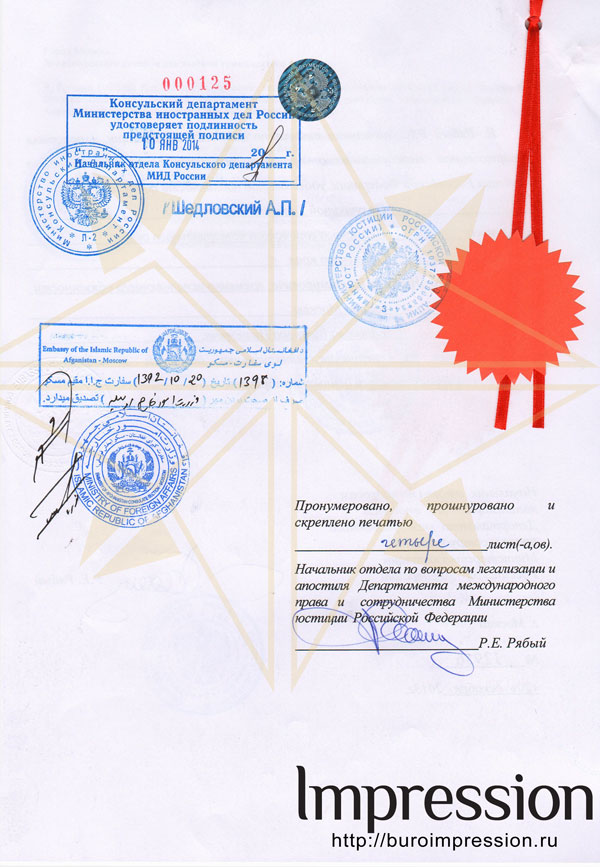 Legalization of documents for Afghanistan is required to ensure that these documents are officially recognized in the territory of Afghanistan.
We provide the legalization of documents for both companies and individuals. The Islamic State of Afghanistan is a country located in the southwest of Asia. It is a multinational state, which is home to more than 20 ethnic groups: Pashtun (50%), Tajiks (about 20%), Uzbeks (9%), Hazara (9%), and others.
Legalization for AfghanistanThe official languages of Afghanistan are Pashtu and Dari.
However, the legalization of documents for Afghanistan and the translation can be done in English. Legalization of documents for Afghanistan includes procedures for the proper execution of documents, their translation into the desired language, as well as the assurance of these documents in a number of instances: the notary, the Ministry of Justice, the Consular Department of the Ministry of Foreign Affairs and of course the Consular Section of the Embassy of Afghanistan in Russia. While preparing documents one should comply with all the requirements for registration of the document, in order not to be denied in a particular instance and not to lose time on the renewal of the document. To quickly obtain the final result - a well-formed legalized document, it is worth to address to experts having an extensive experience in the legalization of documents.
Translation Bureau IMPRESSION provides a service for the legalization of various documents for Afghanistan. To obtain information on specific documents please contact the phone numbers listed in the Contact section, or just come to our office.
Back